ABOUT BORNEO AMATEUR RADIO CLUB
Borneo Amateur Radio Club (BARC) is one of the largest Amateur Radio Society in the North Borneo (Sabah). Its members are populated in every district.
It was formed in 1993 by 9M6LS, 9M6JC, the late 9M6BZ with a few others. We have more than 200 active members and it is still growing.
The Amateur Radio Club, as a non-profit organization, advances all aspects of the art of wireless communications and knowledge to serve the public interest of the community of Sabah, surrounding communities and Malaysia.
BARC club house located at Sembulan, Kota Kinabalu which allowed club members to use our facilities anytime for learning, CQ activities & etc. Our club house also use for Sabah Amateur Radio Emergency Communication & Operation Centre (Pusat Komunikasi Dan Operasi Kecemasan Radio Amatur Negeri Sabah) which has been officially recognized by MCMC and Sabah State Government on 2016.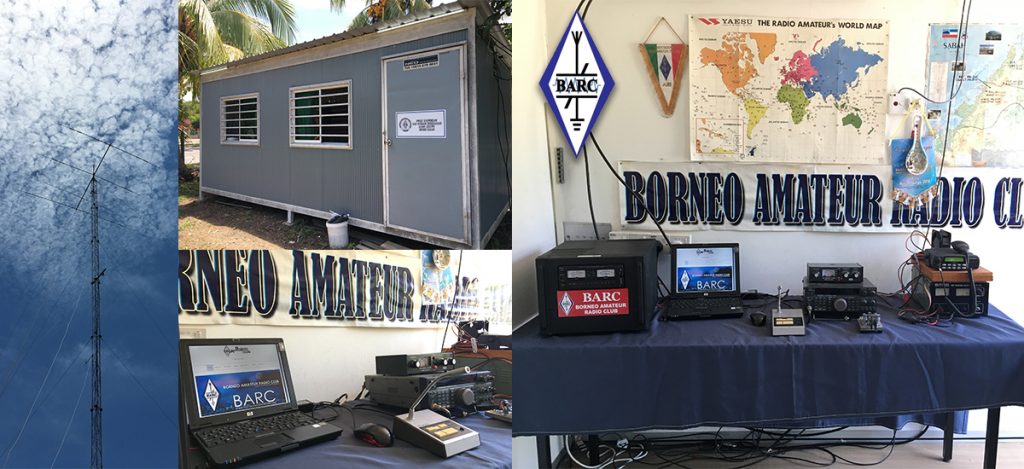 BORNEO AMATEUR RADIO CLUB BOARD OF DIRECTORS ( 2022 – 2023 )


Dalam gambar diatas, yang duduk adalah Ahli Jawatan Kuasa Baharu BARC 2022 – 2023
(Duduk dari kiri ke kanan)
9W6BA, 9W6NOI, 9W6ANY, 9M6TK, 9W6RMD (Presiden), 9W6ZBM, 9M6RHM, 9W6TAS, 9W6RSL
President : Rosni Bin Mohd Daud ( 9W6RMD )
Vice President : Yahiaya Bin Hj Safri ( 9W6YBS )
Secretary : Timothy Kurin ( 9M6TK )
Assistant Secretary : James Wan Tin ( 9W6JMS )
Treasurer : Zainuddin Moksil ( 9W6ZBM )
6 ORDINARY COMMITTEE MEMBERS
1. Mohd Taslim Tahir ( 9W6TAS )
2. Abdul Rahim Marjaya ( 9M6RHM )
3. Haini Adam ( 9W6ANY )
4. Han Bunajos ( 9W6YBA )
5. Matnor bin Nod ( 9W6NOI )
6. Roslan Badul Rahman ( 9W6RSL )